In honor of Mental Health Month, we are organizing a fundraiser to benefit the USUE Counseling and Wellness Center. The topic is "Suicide Prevention" and how to talk to youth about mental health.
---
Thursday, May 20, 2021, 6:30 PM
Jennifer Leavitt Student Center
Guest speaker – Mary Schulz
Keynote speaker – W. Brandon Callor, CPM
---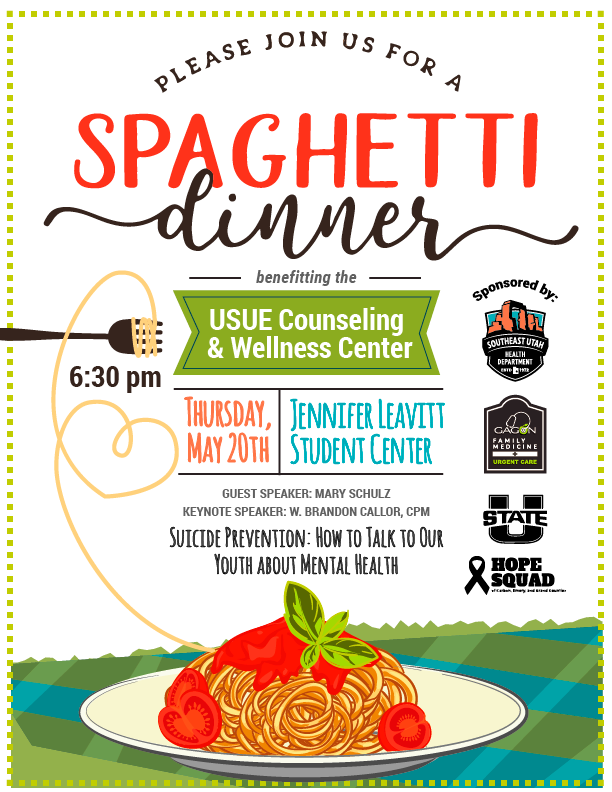 About Brandon Callor
Brandon Callor, CPM
Husband/Father/Author/Activist
Brandon Callor is a certified public manager and currently serves on the board of directors for Utah Society of Certified Public Managers. He works for the Office of the Medical Examiner under Division of Disease Control and Prevention and has been there for twenty years. At the same time, he has worked with researchers at the University of Utah in the area of suicide prevention. He has co-authored many scientific journal articles about the characteristics and behaviors associated with suicide including genetics. However, when tragedy struck home he turned to writing for personal healing.
He published a book, Life After Suicide: The Impact of Suicide on the Ones Left Behind, wherein he depicted the various pathways to healing that he and his family experienced after they lost a loved one to suicide. His second book, 7 Cs of Coping, (due to launch in 2022,) takes a prescriptive approach to self-healing. Mr. Callor calls himself The Coping Strategist and has specialized in theories of applied positive psychology through University of Pennsylvania. He serves on the board of directors of the Utah Chapter of American Foundation for Suicide Prevention.
He and his wife, Katy, are co-founders of an organization, Links of Courage, which is on a mission not only to help people through the grieving process of losing a loved one to suicide, but to make an impact big enough to eliminate it completely.
Brandon is enrolled at the University of Oklahoma in a Master's program at the Anne and Henry Zarrow School of Social Work. His goal is to become a licensed clinical social worker in Utah and continue his work in the field of suicide prevention research, outreach and advocacy.
---
About Mary Schulz
Mary has lived in Carbon County for over 20 years. She has been married to Anthony Schulz for over 12 years and together, they have two kids; Alexandra Schulz, 13yrs old and Zach Schulz, 11yrs old. Mary has worked with the Department of Workforce Services for over 4 years.  Mary loves Carbon County and has stayed because of her extended family, but more so for the family that she has made.
Mary's son Zach had his TBI (Traumatic Brain Injury) while he was in the 1st grade.  This started their Family's journey with mental illness.  Last year, Zach started having hallucinations and delusions as a result of his TBI and started to struggle with aggressive depression, suicidal thoughts, and actions.  Mary's son would have not survived if it weren't for the caring people in this community that have become like a second family.
---
https://gagonfamilymedicine.com/wp-content/uploads/2021/04/Gagon-may-dinner-invite-header.png
350
850
gagonfp
https://gagonfamilymedicine.com/wp-content/uploads/2015/08/new-Gagon-logo-2-.png
gagonfp
2021-04-29 19:36:20
2021-05-05 17:41:58
May-20-2021-Spaghetti Dinner Fundraiser benefitting USUE Counseling and Wellness Center